Information
About JSPO
The Japanese Society of Prosthetics and Orthotics (JSPO) is an academic association with the mission of developing and promoting prosthetic and orthotic technologies and knowledge, and of contributing to academic and cultural advancement, and the improvement of the welfare of the disabled.
JSPO consists of multidisciplinary members: medical doctors, prosthetists and orthotists, engineers, physical therapists, and occupational therapists. more≫
JSPO plays various specialized roles in meeting diversified prosthetic and orthotic challenges, including a role in helping improve the quality of life for the users of prostheses and orthoses, and one in evaluating prostheses and orthoses based on evidence. JSPO holds an annual academic event and an annual seminar, publishes an academic journal, and helps developing countries provide prostheses and orthoses to patients, while its committee (ISO/TC168) discusses standards in Japan for the International Organization for Standardization.
What JSPO does
Annual academic event
An academic event is held once every year. In it, addresses on a specified topic are delivered, including those by invited speakers from abroad, and symposiums and panel discussions are held. more≫
JSPO members can make presentations in their respective specialized fields or listen to presentations by others. A commercial exhibition is joined by a number of prosthesis and orthosis producers and welfare equipment manufacturers, offering an opportunity to experience cutting-edge products firsthand. The event also serves as a forum for exchanging opinions with and collecting information from a variety of professionals involved in clinical research on prostheses and orthoses. A large number of prosthesis and orthosis users, students, and other non-industry people have participated in recent years.
Annual seminar
A seminar is held once every year to provide chances for various specialists related to prostheses and orthoses to learn professional knowledge and skills. more≫
Seminar topics cover state-of-the-art as well as practical knowledge and skills to promote appropriate use of prostheses and orthoses. These topics cover wide-ranging areas of specialization, and the seminar is designed with well-balanced theories, fitting, and wearing training methods in consideration of multidisciplinary members of the JSPO.
Academic journal publication
JSPO publishes the Nihon Gishi Sougu Gakkaishi journal (ISSN: 0910-4720) [Bulletin of the Japanese Society of Prosthetics and Orthotics] four times a year, as part of its membership service. more≫
Each issue of the journal features prostheses and orthoses, and welfare equipment, as well as education, research, and overseas developments. It also includes treatises and articles contributed by JSPO members, educational columns, reports on recent conferences, academic meetings, and seminars, and other information. This journal can be read on J-STAGE, or "Japan Science and Technology Information Aggregator, Electronic," an online academic journal platform operated by the Japan Science and Technology Agency. https://www.jstage.jst.go.jp/browse/jspo/-char/ja/
Membership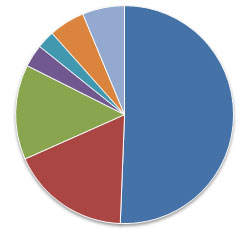 JSPO membership consists of a variety of professionals, chiefly doctors, prosthetists and orthotists, physical therapists, occupational therapists, and engineers. As of January 2013, JSPO had 2,435 members
| Profession | Number of members | % |
| --- | --- | --- |
| ■ Prosthetists and Orthotists | 1238 | 50 |
| ■ Doctor | 433 | 18 |
| ■ Physical Therapist | 344 | 14 |
| ■ Occupational Therapist | 82 | 3 |
| ■ Engineer | 65 | 3 |
| ■ Student | 130 | 5 |
| ■ Others | 153 | 6 |
Enrollment information
If you would like to apply on the Web, please write "You want to join" in the subject line of the email, write the desired membership category in the text, and send it to the following email address. We will email you the payment method with return credit, so please pay the admission fee and the annual membership fee for the first year.
* Admission fee and annual membership fee for the first year are paid by credit using paypal.
The annual membership fee is as follows. The fiscal year of the Society is from September 1st to August 31st.
| | Student member | General member | Supporting member | Subscribed member |
| --- | --- | --- | --- | --- |
| Admission fee | | 1,000yen | | |
| Annual fee | 4,000yen | 10,000yen | 40,000yen | 8,000yen |
(No admission fee is required for transition from student member to general member.)
* Subscribed members are limited to corporations, and participation in study groups and academic conferences is treated as non-members only by purchasing academic journals. Subscribed members purchase each academic journal volume and have nothing to do with the academic year.
* Those who wish to have a back number will be charged 2,000 yen for members and 3,000 yen for non-members.
(Up to 9 volumes, 1,500 yen for members, 2,000 yen for non-members)
[Society Secretariat]
Prosthetic limb hall 201, 5-32-7 Hongo, Bunkyo-ku, Tokyo 113-0033
TEL: 03-3812-9066 FAX: 03-3868-3201
E-mail:office@jspo.jp